If you want to design the best experience for your users, you need to know their stories. Here at Blink we recently wrapped up a project that demonstrated how the "qualitative story" of user research and the "quantitative story" of SEO and analytics can be paired to produce powerful insights that provide the evidence you need to craft the right experience. We were thrilled with the way our typical user research process was bolstered with analytics-driven insights, and our search marketing partner found deep value and empathy in the personal perspectives offered by our one-on-one research sessions with users.
Like any good love story, someone made the first move. As part of the initial stage of a large medical website redesign, Blink was brought in (asked out?) by local search marketing firm Wheelhouse Search to lead the user research and information architecture efforts. Blink and Wheelhouse worked as partners on parallel workstreams, with Blink performing qualitative user research while Wheelhouse analyzed user flows, keyword research, and other quantitative data from site analytics. Continuing the dance of qualitative and quantitative, Blink also completed a content audit of the current working site while Wheelhouse performed a content gap analysis with the client's competitors.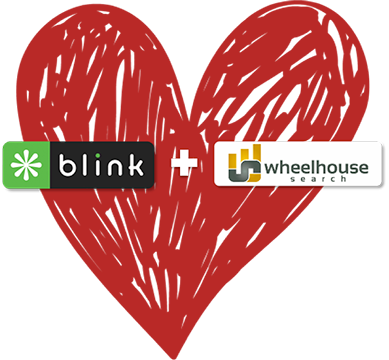 We found that this partnership offered enormous value to the client. Search marketing insights from the Wheelhouse team paired exceptionally well with Blink's research findings, providing a wealth of evidence that we could use to drive towards a user-centered information architecture for the new site. While protecting client specifics about the project, I have bubbled up a few of the key takeaways from this SEO/UX love story.
1. Pairing SEO & analytics data with qualitative user research tells a more complete story
At Blink we love how user research can uncover the big "whys" that we all want to know.
"Why are they here?"
"Why didn't they click that?"
"Why didn't they see that?"
"Why did they give up?"
User research is a powerful method for discovering intentions and behaviors. But there's another story that often goes untold… one that user research sometimes can't uncover. This is where SEO and analytics can provide a big, lovely N to bolster your one-on-one user research.
Looking at user data and analytics can show you, on a large scale, where users are popping in and jettisoning from your site, how users are journeying through your site (or if they aren't), and how they got there in the first place (hint: keywords). We all know that content is king; SEO and analytics can help you tailor your content to hit those sweet spots in search results. This all comes together to offer your users a better experience: If they can find you in the search results and find what they need on your site easily, you are going to be in good shape!
2. SEO + UX = Client Value
We love crafting great experiences for users, but we are also huge fans of giving our clients value through UX practices—the more insights that drive a product's design, the better. To that end, by supplementing our normal user research process with insights from search marketing and analytics, we were able to offer the client even more powerful evidence of user behavior. This was especially apparent in areas where our qualitative user research and the quantitative analytics pointed to the same user behavior—what a powerful way to show clients "this is what your users are doing, and this is what they are looking for!" You can try to argue with what users are saying, or you can throw out questions about what your analytics are telling you, but when you combine these two sources of information, the evidence becomes really hard to argue with.
3. A designer's job made easier with insights & evidence
One of the largest benefits of the user-centered design process is the ability for design to be driven by evidence. While this offers an obvious advantage for business reasons, it can also provide a designer or information architect with confidence they might not have otherwise. With insights and evidence from user research, a designer will find it much more straightforward to drive the work forward and defend it. Less uncertainty exists, which is almost always a good thing in the design process. And if I haven't hammered this point home already, I will say it once more: user research is great, and often gives us the evidence we need to solve our client's design challenges. Yet the addition of analytics and SEO-based evidence bolstered this process in a fantastic way, truly giving us all we needed to craft a user-centered structure for the client's new site.
And that's our love story. In the future, we look forward to finding new opportunities to pair search marketing and SEO with our user research process so we can continue to drive towards evidence-driven design solutions for our clients.
Tristan is a proud member of the interaction design crew at Blink. In his off time he can be found sipping a cortado at Caffé Fiore in Queen Anne or taste-testing local IPAs in Fremont & Ballard.