Building an inclusive world through design.
We at Blink are committed to creating a more just and equitable world through our company culture and the work that we do. Our journey is just beginning, and as it continues, we're sharing the first steps we've taken to cultivate a more inclusive world for our employees, clients, and communities.
We're creating a culture of continuous learning.
We know that only through consistent growth and development can we maintain our commitment to excellence in both our work outcomes and our relationships. We look for opportunities to educate ourselves and each other by hosting events — like our Juneteenth programming — and facilitating company-wide forums to discuss race, belonging, and equity in the workplace and beyond.
Reading list recommended by Dr. Sloane Kali Faye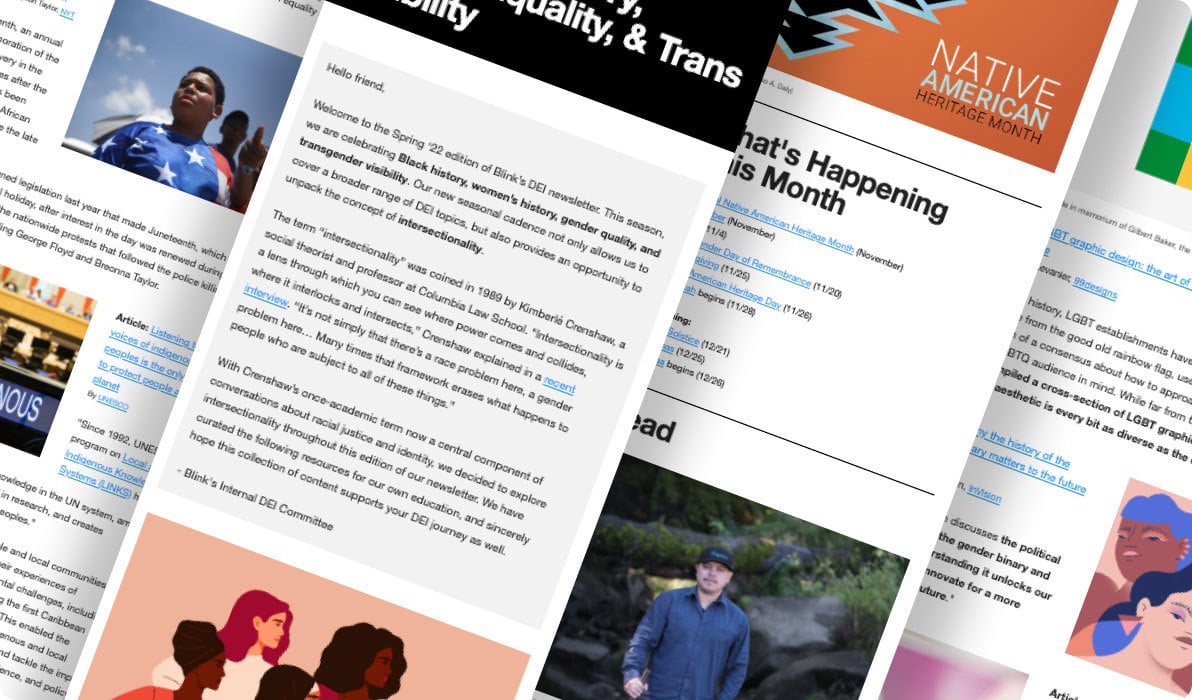 Internal DEI newsletters
We're committed to racial equity in our research and design process.
We consider equitable research and design practices to be both a moral imperative and a strategic business advantage. Products and services that are accessible and relevant to a diverse audience have better customer engagement and loyalty.
Blink takes a targeted universalist approach to racial equity by centering on meaningful outcomes for Black lives first. The goal of centering on Black voices is to have a cascading effect, creating more equitable outcomes for all, including other historically underinvested and marginalized groups.
We invest in underrepresented groups and businesses.
Our annual pro bono program supports organizations that drive social change and positively impact their communities. We prioritize Black-led and Black-owned companies, BIPOC organizations, and groups tackling some of society's most pressing issues: racial equity, poverty, health and wellness, civil rights, environment, education, and arts and culture.
We're building an inclusive hiring process.
By identifying and reducing bias — conscious and unconscious — and taking time to ensure inclusive practices, we're bringing objectivity to our hiring, onboarding, and career development. Our focus areas have been implementing mandatory hiring training, best practices for inclusive job descriptions, standardized interviews, and an anonymous feedback process for the hiring teams.
Let's make a difference together.
Get in touch to learn how we can work as one to build a more inclusive and equitable world through user-centered design.
Partner with Blink