Putting athletes at the center of the games
How we helped Special Olympics enhance the USA games experience with a new mobile app for athletes and attendees.


"This project empowers athletes and gives those who haven't had a voice, a voice. This has never been possible before. Athletes felt empowered and liked being a part of the solution."
—Lonnie Snyder, CIO at Special Olympics USA Games 2022

About the client
Building a world of community and inclusion
Many know Special Olympics for its yearly athletic competitions for children and adults with intellectual disabilities. Since 1978, the organization has been empowering its athletes through sports training, coaching, and inclusive fitness.
With the 2022 USA games on the horizon, Special Olympics asked us to elevate the athlete experience with a mobile app designed to fit the athletes' needs.




The challenge

Going beyond the medal count
When you think about professional sports, what comes to mind? Most likely, it's something like competition, winning, and statistics. Not surprisingly, the digital experiences that accompany these sports often highlight this same data.
When we began designing the Special Olympics app, we took a different approach. Instead of creating a platform that focused solely on the athlete's statistics and medal counts, we designed an experience that caters to the specific needs of the game attendees, starting with athletes.


Our approach
A design approach that puts athletes first
"This time we stopped and asked athletes what they really wanted." —Lonnie Snyder
We conducted one-on-one foundational interviews and athlete co-creation workshops to understand the athlete's journey, needs, goals, and frustrations when they competed in the past.
We learned that, for athletes, connecting with friends is more important than the competition, game logistics bring anxiety, and athletes want more opportunities to celebrate each other regardless of the competition results.

Contact Blink UX to learn how your team can create great products backed by user insights.

The solution

A digital companion that extends the Games beyond the field
With these insights, we crafted multiple mobile app concepts that would celebrate every athlete, improve connections, provide simple logistics, and promote athlete health and safety. Testing our ideas with athletes helped us evolve and refine the designs.
At the Games, coaches act as chaperones helping athletes follow their schedules and figuring out where they need to be and when. We decided to talk with the coaches to make sure our work would support them, too.
The new mobile app is anchored in things that work for athletes and are equally beneficial for coaches, volunteers, and athlete families and fans. Now, Special Olympics USA has an app that easily adapts to the user with custom views based on who is using it.


Logistics made delightfully simple
Despite the excitement, the Games can quickly turn stressful for athletes. Prior to the app, it was unclear to athletes which uniforms to wear, how to get to their next event, and how to go see friends in between their competition schedule.
With the new "My itinerary" feature, athletes receive at-a-glance updates on weather, uniforms, logistics for each event, messages from their coach, when to be with their team, and when they have free time. Friends, family, and fans can easily explore and add events that "snap in" to open spots on their daily schedules to help maximize each event.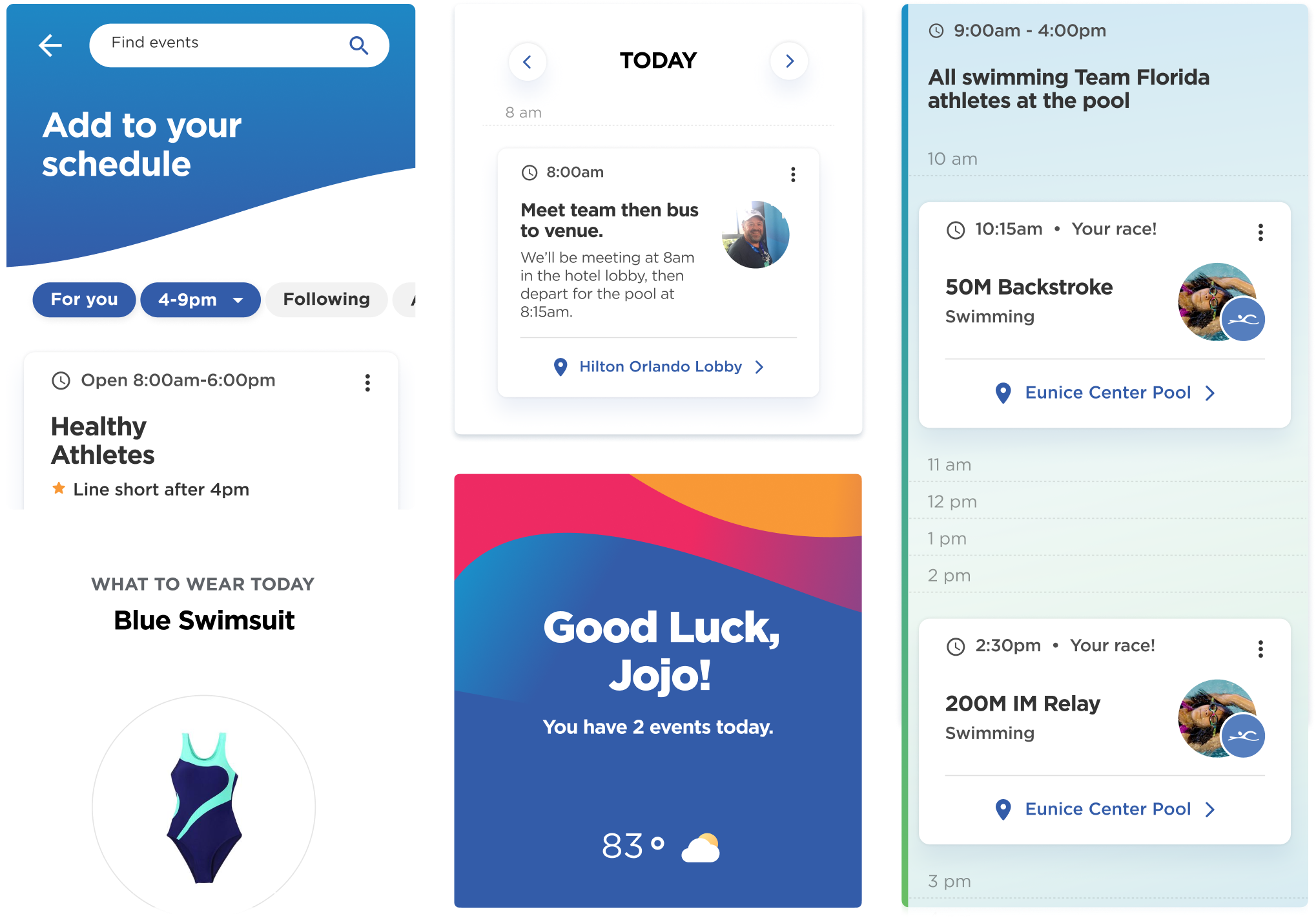 An easy way to encourage athletes

We learned that athletes come to the Games to make new and see old friends. Showing off their hard work is important, but the camaraderie from competing together is a huge motivation for many.
Athletes, family members, and fans can now send competitors one-tap, customized messages such as "Good luck" and "Great job," whether it's before, during, or after the events. Pre-written messages greatly reduce security concerns and make it easy for verbal and non-verbal athletes to send a note of encouragement to their friends.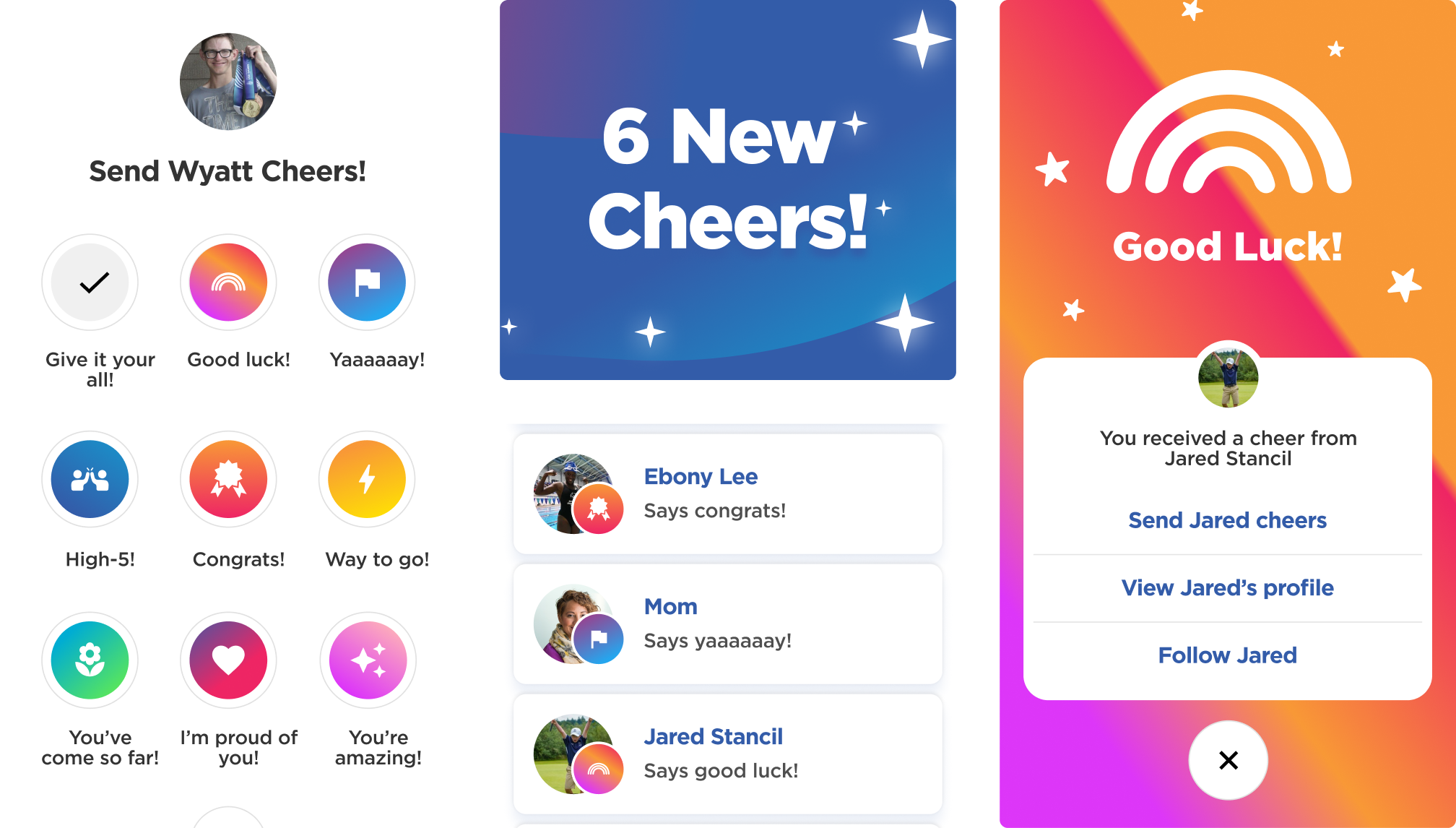 Shareable mementos for every event, no matter the results
In the past, athletes and coaches sometimes had to wait hours to hear competition results, and often times the award ceremony only celebrated the top athletes.
With the new app design, athletes and coaches receive results immediately. Every athlete is celebrated with mementos such as professional competition photos, event posters, and slideshows that athletes can share with their families and friends— something no other Games app has done before.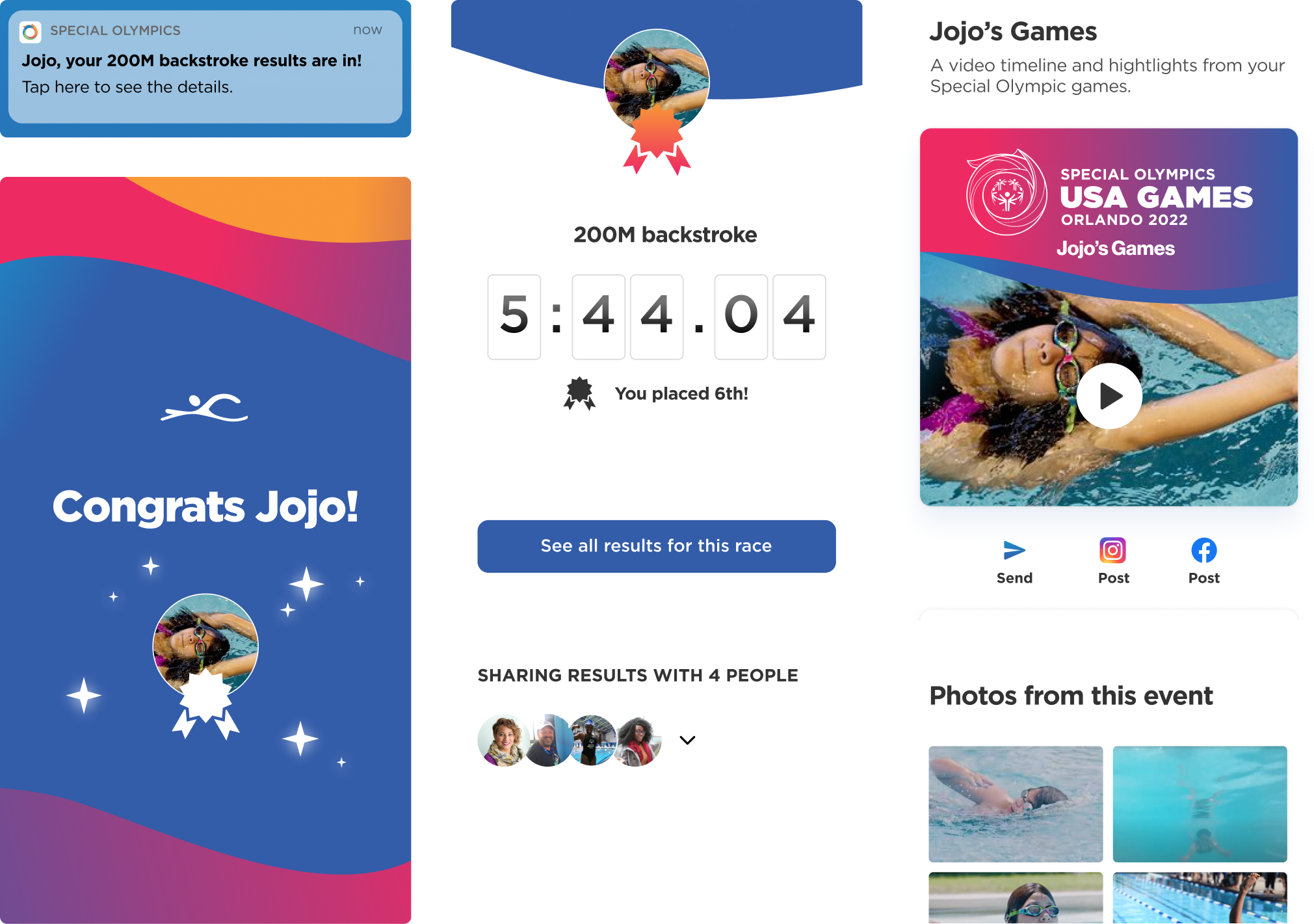 The result
Changing the Games worldwide
Because we included the client's development partner along the way, Special Olympics was able to build an engaging app true to our original designs. Attendees got their first look at the new app during the June 2022 USA Games, and it was a huge success.
"I can't tell you the number of positive comments and feedback we've gotten this week [...] The signature experiences Blink helped to create really set us apart, and I am grateful," says Lonnie.
With this new app in the hands of athletes and attendees, the USA Games is bringing to light a new way for the broader Special Olympics community to design its worldwide events and initiatives around the needs of the athletes.
"This isn't just a mobile app; this is going to be a legacy we leave behind." —Mike Suman, client development partner.