Rescuing Leftover Cuisine teamed up with Blink to figure out how to best recruit, retain, and support new and existing volunteers.
The Challenge
When restaurants, hotels, and catering companies have leftover food, where does it go? According to the Natural Resources Defense Council, 40% of food in the US ends up in the trash. Robert Lee, CEO of Rescuing Leftover Cuisine (RLC), saw an opportunity to mend this problem. In 2013, he launched RLC with a threefold mission: to make food rescue sustainable, eliminate food waste, and make food hunger a thing of the past.
The organization grew quickly by working with volunteers — or "rescuers" — to transport food from local donors to shelters, soup kitchens, and human resource centers in the community. Now, RLC has chapters in 16 cities across the country with over 300 active volunteers.
As the organization grew, Lee and his team quickly realized that to expand to new cities, keep up with the growing demand for food rescues, and support new and current volunteers, RLC needed to improve the volunteer experience. It had outgrown its existing online volunteer platform and was ready for a redesign.
"We want to be a better dance partner for our volunteers," RLC New England Coordinator Dana Siles said.
RLC wanted to provide every rescuer with a fun, simple, and safe volunteer experience. That's when RLC turned to Blink to help create a solution. Through close collaboration, Blink and RLC envisioned an intuitive and engaging online platform that would allow volunteers to quickly find food rescues, feel confident in the rescue process, and stay connected to the organization and its mission.
The Approach
Blink talked with active volunteers about the current volunteer process — from onboarding to completing a rescue. Through these semi-structured conversations, the teams learned what motivated volunteers to join RLC, heard about their personal experiences, and listened to their thoughts on the current online volunteer platform. Next, a Blink research team audited the existing experience and conducted competitive and comparative audits for inspiration in food rescue. This research gave RLC the insights it needed to optimize its volunteer experience and provide a process that volunteers would find functional and straightforward.

As research came to a close, the solution became clear: RLC needed a digital volunteer platform that prioritized efficiency, minimized the time required to find a rescue, and served as a resource for volunteers before, during, and after every event. Designers worked together to create a web application that addressed these needs and reflected a deep understanding of the RLC rescuers.
Now, with the redesigned RLC web app, volunteers can set filters to search for rescues based on their schedules, location, and donation weight. In addition, the new event calendar interface makes it easy for volunteers to browse and compare events. A redesigned "info on the go" feature gives volunteers mobile access to all instructions and contact details relevant to their events. As a final touch, Blink updated the app's visual design to reflect RLC's latest branding and meet current accessibility guidelines.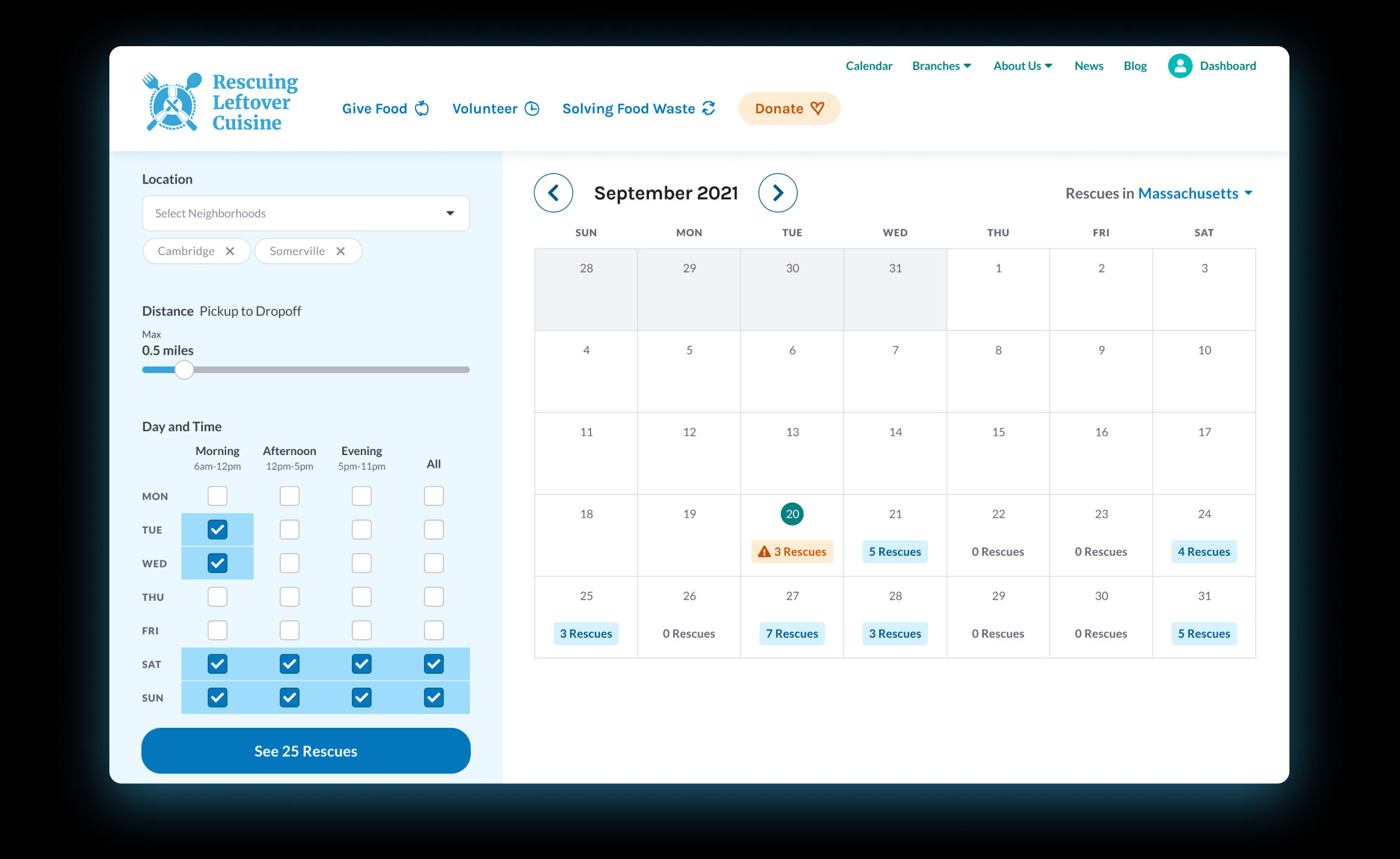 The Outcome
With Blink's dedicated help, RLC is equipped with an evidence-driven design that marries simplicity, fun, and safety for a volunteer experience that will attract, retain, and support rescuers.
"I'm really excited about this. I think our rescuers are just going to be so thrilled — not just with the outcome but with the fact that so much care went into it," Siles said. "The whole experience of working with you has been incredible. You guys are top-notch. I can't thank you enough."