Giving customers control over their financial lives
How we helped Edelman Financial Engines create an all-new digital experience platform that provides users with simple financial planning and management tools.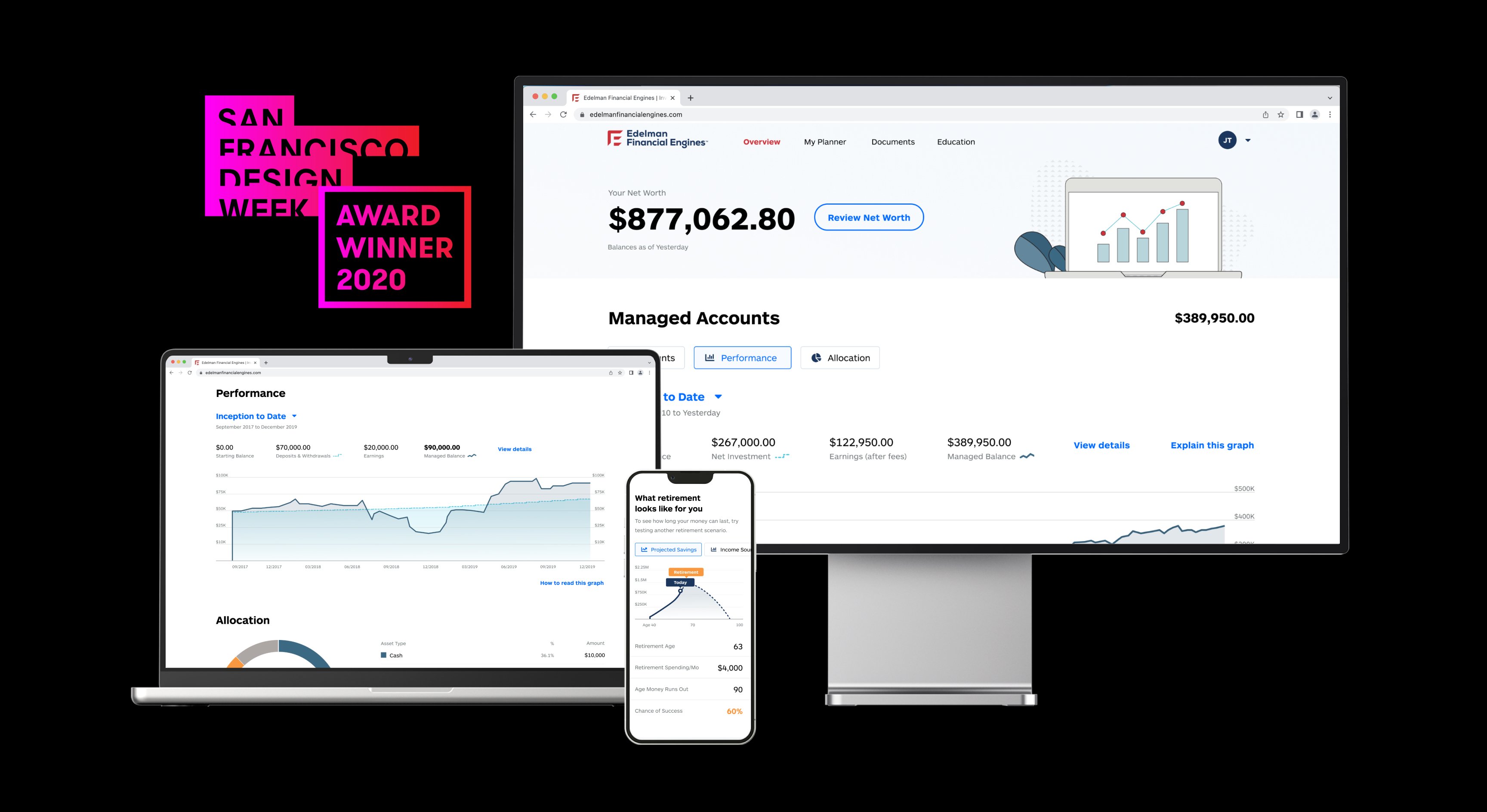 "Blink was able to complement our value proposition by taking very complicated and detailed data and creating a UI that is simple and easy to understand while maintaining a level of sophistication for those who want to dig deeper. They have exceeded our expectations with design and provided an excellent foundation for future development."
—Amir Zelazny, VP of Product

About the client
The merger of two successful financial planning firms
When planning your financial future, chances are you've had to choose between working with an in-person advisor and using automated advising services. Edelman Financial Engines (EFE) saw the need for both and asked: "What if we didn't have to choose? What if we could create a new product that combines the best of both worlds?"
Named "Best Independent Advisory Firm" in the U.S. by Barron, Edelman Financial Services provides financial planning and investment management to 1.2 million customers. In addition to providing traditional retail-based financial advising, Edelman Financial Services was an early believer in using technology to democratize financial planning.
In 2018, Edelman Financial merged with Financial Engines, a fintech organization that provides affordable financial advice through a traditional service model and a national call center. The two firms quickly realized that, in order to make the most of this merger, they needed a simple way to connect their distinct business approaches.




The challenge

Combining the best of digital and in-person planning services
After the merger, the new EFE noticed significant user experience gaps. For example, the traditional service model of Financial Engines wasn't giving customers and financial planners digital tools to take control of their futures. In comparison, the automated advising services of Edelman Financial couldn't match the complexity and nuance offered by a human financial expert.
EFE wanted to create a new financial solution that offers the best of both approaches, giving customers a more robust and user-friendly set of financial planning tools. The team came to us for guidance in what they knew would be a complex process with high stakes for the long-term future of the fintech company.


"We saw this as an opportunity to put our clients first and to truly drive an experience that enhances our business model and strengthens the relationships with our clients. We deliver high-touch, white glove service to clients in person, and this digital experience needed to be a direct reflection of that. Every detail matters."
—Matt George, VP of Product
Our approach
A year-long partnership and the road to launch
From the start, we knew that bringing these two companies together would be a challenge. The first was an engineering-led organization that made decisions based on developing technology, whereas the second was run by in-person financial advisors.
Our design process, rooted in extensive customer research, allowed stakeholders from both sides to contribute. Over a year, we worked closely with a small core team of EFE stakeholders tackling individual platform features in 4-week sprints. This extended partnership allowed us to provide more resounding support and recommendations as the team prepared for launch.
Contact Blink UX to learn how your team can create great products backed by customer insights.
During each sprint, our researchers incorporated user testing and customers' voices by interviewing EFE clients and learning what they value most regarding financial decisions.


The solution
Intuitive planning tools in one seamless platform
Our long-term partnership culminated in an online platform that provides users with simple tools for retirement, estate planning, and wealth management. EFE now has a design system in place to rapidly expand its design team and capabilities, beginning with the UX director and embedded talent they hired during our time together.



01 Tools for long-and-short-term planning

By combining aspects of digital and in-person planning, customers can focus on a holistic financial plan and map out long-term financial goals while still meeting their short-term needs.


02 Notifications to keep finances top-of-mind

The new portal automatically notifies and guides customers when they are approaching key financial milestones that might require action.


03 Streamlined communication between clients and planners
Advisors can now easily walk clients through several financial planning scenarios using customer financial snapshots. Customers are no longer required to complete documentation before their initial visit. Instead, they can submit data online, with on-demand guidance and control over how much sensitive data they disclose.


The results
Improved design, increased engagment
EFE found that prospective customers who use the portal are nearly twice as likely to attend an appointment with their financial planner as those who don't. In addition, portal users tend to get more out of their appointments and are more likely to sign up for Edelman Financial Engine's advisory service.
With an initial launch to a limited audience, hundreds of clients visit their portal weekly, and many return more frequently than ever.