For the second year in a row, Blink joined San Francisco Design Week (SFDW) for an engaging week-long festival that showcases creative businesses in the San Francisco area to inspire and enable progress in the creative community.
For this year's event, a few of our Blink designers and client partners teamed up for a one-hour virtual event on June 8, 2021, to share a behind-the-scenes look at one of our most powerful projects to date: designing a native app experience for athletes competing in the Special Olympics USA Games 2022.

Joined by viewers across the world, attendees got an insider's look at the project challenges, opportunities, and the final app design. Plus, insights on how design can be used to empower all people.

Take a look at some of our biggest takeaways from the event:
A design approach that puts athletes first.
"What comes to mind when you first think of sports?" asked Scott Lambridis, Head of Design at Blink San Francisco. Typically, the information we see about sports is catered to the fans: medal counts, statistics, scores, you name it.
When it came to designing a native application for the 2022 USA Games, the team took a different approach. Instead of designing an app that focused solely on the highlights and medal counts, they wanted to design an experience that catered to all attendees of the USA Games, starting with athletes.

Scott explained that the project kicked off with one-on-one foundational interviews and journey mapping to better understand the athletes' dreams and goals for the games, along with any pain points they've experienced while attending the Games in the past.

According to Lonnie Snyder, CIO at Special Olympics USA Games 2022, this was the first time the organization took an athlete-centered approach to creating an experience for the Games. "This time we stopped and asked athletes what they really wanted," said Lonnie.
The insights that informed the final design
By conducting user research to understand the athlete's goals, motivations, and pain points, the team found three themes that would later inform the design decisions for the final product. They discovered that:
Connection is more important than competition. "Sometimes the only time you get to see your friends is at the games," said Patrice, a Special Olympics athlete, "It's a lot of fun and you get to cheer for all of your friends. It doesn't matter whether you win or lose, everyone is high-fiving."
Logistics bring anxiety. "There's a lot of people and it's really crowded. You can't see where you're going," said athlete, Layla. "Mostly I find my way by going with someone. You never know when you're going to get lost."
Every athlete deserves celebration. "It makes me feel good to know that I'm not the only one being cheered for. Because I know how hard I worked to get to that point so I can imagine and have some sense of knowing what the other athletes went through to get there," said athlete, Jacquie.
Using these insights to inform the final design, the team created a native app that:
Simplifies the logistics. In the app, athletes can find which uniform they need to wear to each event, their schedule for the day, and walking directions to each event.
Includes pre-written message of encouragement. Friends, family members, and athletes can send "cheers" to congratulate and encourage other athletes.
Creates shareable mementos after every event. These mementos enable athletes to see results, the medal ceremony schedule, and event photos.
Lonnie shared that the goal was to create a great experience for everyone at the event. From athletes and fans, to coaches and volunteers, "everyone should feel that they are valued and a member of our community."
This product is a game-changer for the Special Olympics
The Special Olympics USA Games 2022 is a small segment of the larger Special Olympics organization, the world's largest sports organization for children and adults with intellectual and physical disabilities.

As Lonnie put it, the design of this native mobile app is changing the way the organization approaches not only the 2022 USA Games, but also all of the other Special Olympics events and initiatives worldwide. "This project empowers athletes, and gives those who haven't had a voice, a voice. This has never been possible before," said Lonnie. "Athletes felt empowered [to be a part of this project], and liked being a part of the solution."
RELATED: Special Olympics Athletes Unite To Inspire and Design 2022 Special Olympics USA Games Logo

"This isn't just a mobile app, this is going to be a legacy that we leave behind," said Mike Suman, client development partner and COO at Applied Training Solutions.

This product raises the bar for future events beyond the games, according to Lonnie. It will create one source of truth for athletes, families, coaches, and volunteers to find the information they need to make their experience at the games the best it can be.
What made this project different?
"There was nothing inherently different about working with people with intellectual disabilities," said Lauren Javor, Principal Designer at Blink Seattle. "This project was an opportunity to push our best practices even further" and create a signature experience for the athletes, families, coaches, and fans at the Games.

Lauren explained that, throughout the project, it was a priority to make the experience approachable and easy to understand. The team needed to be really diligent about designing the app in a way that makes the messaging as clear and effective as possible.
What's next?
Once Blink finalized the design recommendations for the native mobile app, Mike and the team at Applied Training Solutions began the development process. Mike went into detail about the status of the project. The native mobile app will be used, for the first time, during the 2022 USA Games. The app is currently in a small closed beta test for usability and will be out for people to test and preview in the upcoming months.
Event Q&A
The event wrapped up with a quick Q&A session between event speakers and attendees.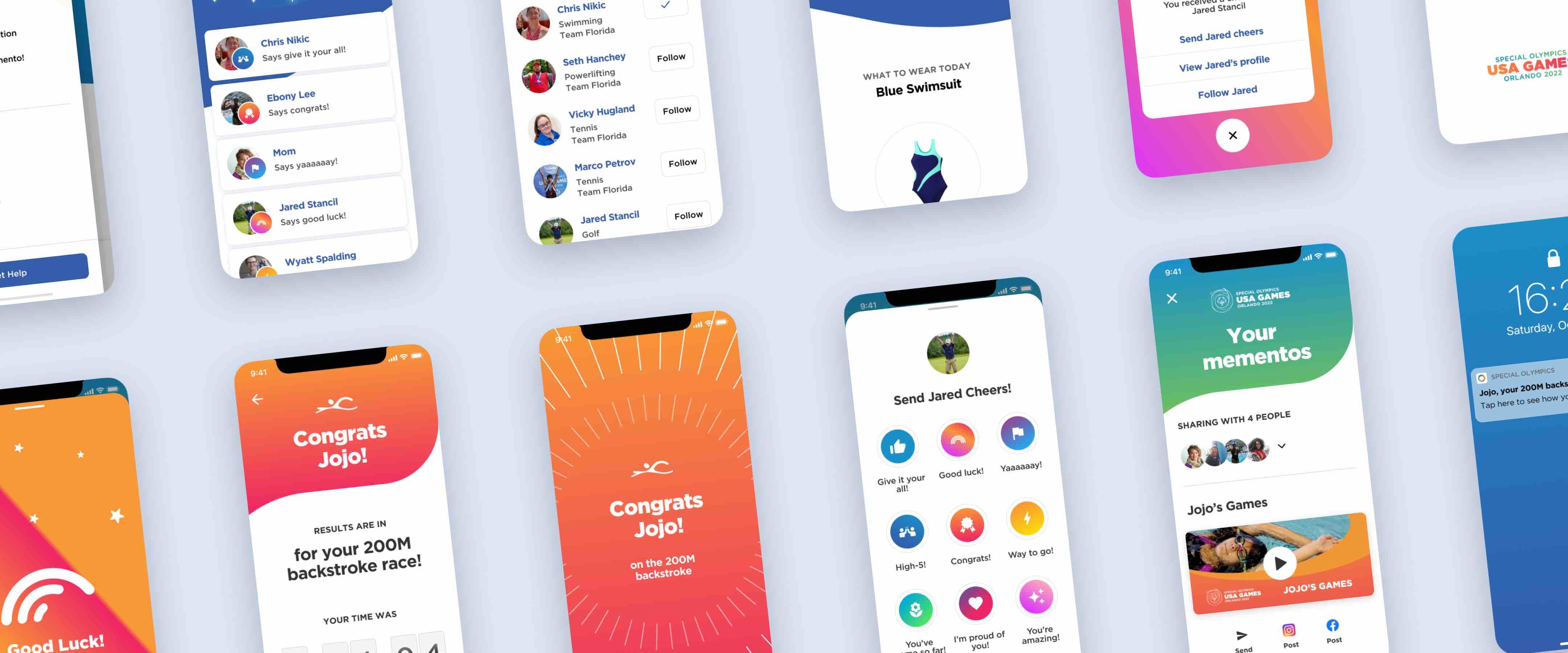 Thank you to all of the event speakers, attendees, and our host, SFDW, for making this event a memorable one!
Event speakers:

Scott Lambridis (Head of Design, Blink San Francisco) - Host, Moderator

Lauren Javor (Principal Designer, Blink Seattle) - Lead Designer

Lonnie Snyder (CIO, Special Olympics 2022) - Client Partner

Mike Suman (COO, Applied Training Solutions) - Client Development Partner

Keep an eye out for the launch of the new Special Olympics USA Games native mobile app later this year and follow #ShineAsOne for updates on the 2022 USA Games happening in Orlando, Florida, June 5-12, 2022.

Check out San Francisco Design Week for a full calendar of virtual festival events happening until June 13, 2021. For anyone who purchased a ticket to the SFDW Virtual Festival 2021, you can access all session recordings on the SFDW site until the end of August 2021.
Blink at San Francisco Design Week
June 08, 2021