article
Blinker Profile: Meet Katie Greiner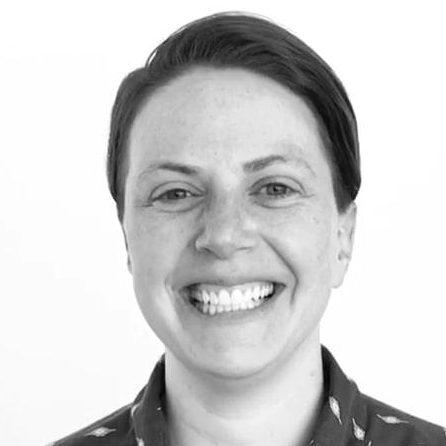 Blinkers are an interesting and dynamic group of people. Each Blinker is carefully selected to join the team because we understand how he or she will positively contribute to our culture and work. And while we do post Blinker Bios on our website, we thought we'd go a little further and profile our Blinkers on our blog. Today we'd like you to get to know Katie Greiner, all the way from Vegas.
Everyone arrives at Blink along his or her own path. What path brought you here? Tell us about your journey.
I've always enjoyed problem solving, that's why I chose to study math in my undergrad. Nearing graduation though, I had no clue what I wanted to do with the degree or what my options really were with my math background. Luckily, I got an internship with Steelcase Store, Steelcase's e-commerce team. While with Steelcase Store, I analyzed website data and helped create the product page—this is where I really got interested in understanding user behavior. I started asking a lot of questions: "Why were people taking certain actions and not taking others? Why are people leaving the site at this particular point?"
With this realization, I knew I wanted to learn more. Fortunately, I came across a field just for that: Human-Computer Interaction (HCI). Fast-forward a couple years: I graduated from Rochester Institute of Technology (RIT) with an MS in HCI. During my time at RIT and while working internships at TechSmith and Steelcase, I really fell in love with user research. Humans simply just fascinate me. With this new passion for research and user experience, I was extremely fortunate to land a job at Zappos. While at Zappos, I had the opportunity to help build out the current user research team and best practices for the company. So with several years under my belt as an in-house researcher, I wanted to see what the consulting world was about. Knowing Blinkers Kelly, Lauren, and Brigitt, I knew I had to reach out and connect. And I'm glad I did!
Oh, and did I mention, that I love trees and mountains? The PNW is definitely my cup of tea! Or should I say coffee? That's really popular here
We are all encouraged to focus on an area of Thought Leadership here at Blink. Will you talk about your area?
I'm extremely passionate about the mental health field and its intersection with technology. How can we make it easier and less stressful for individuals who suffer from mental illness to seek help, educate themselves, and get better? I've studied cognitive behavioral therapy (CBT) and dialectical behavioral therapy (DBT) before and know the benefits of these methods. How can we use technology to teach others about these benefits? Emotional intelligence is for everyone, not just those who suffer from a mental illness. Learning how to best communicate, share your feelings, and handle stress is extremely beneficial to all. I'm excited to dive deeper into this Thought Leadership area here at Blink.
Who or what motivates you right now? What's causing the greatest impact on the way you work/live/think?
We've all heard it before, the phrase "life is too short." For me, this phrase is at the front of my mind each day. Let's live in the moment, let's be aware and mindful of what is going on around us. Say hi to a stranger, ask someone if they need help with the parking meter. Be kind and smile more. Again, "life is too short" so I try to live the best life I can and be thankful for each moment.
When you're not at Blink, where would we find you? And what would you be doing?
Catching my breath on a strenuous hike in the mountains, yelling at my best friend for saying "It's a moderate hike," but then hugging her when I reach the top because I'm so proud I made it. I love exploring. I love seeing new things. I love opening my mind to new cultures, new mindsets, or new ways of thinking. So you can either find me on a hike, out on the soccer field, bouldering at the rock climbing gym, or planning my next Women's World Cup itinerary.
Lastly, if you set out on a long voyage at sea and could only bring one book to read, what book would you select? Why?
I'd have to have SPF first before bringing a book—my mom instilled that in me at a young age :p Joking aside, the first book that comes to mind is my journal. I've been recently taking time out of each day and journaling how the day went. I spend quite a bit of time writing from the day, but don't take too much time to re-read them. I use my journal as a way to learn more about myself. I'm always trying to better myself and learn from my mistakes. What did I learn that day? What memories should I hold close to my heart? How did that conversation make my friend or partner feel? Self-discovery is very important to me: To see where I've come, how much I've grown, and question where I can still improve.