article
Blinker Profile: Meet Jonathan Evans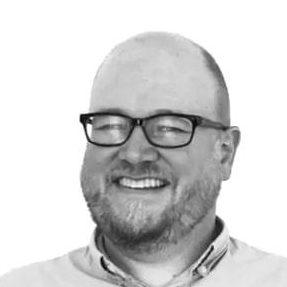 Blinkers are an interesting and dynamic group of people. Each Blinker is carefully selected to join the team because we understand how he or she will positively contribute to our culture and work. And while we do post Blinker Bios on our website, we thought we'd go a little further and profile our Blinkers on our blog. Today we'd like you to get to know Jonathan Evans from, well, from all around Blink.
Everyone arrives at Blink along his or her own path. What path brought you here? Tell us about your journey.
A long time ago, in what my daughter swears was when the dinosaurs were still around, I had jobs doing web design, production, and/or programing. I kept bouncing around with these type of jobs, but my BA was in psychology from Swarthmore College.
So my journey to Blink began when I decided to find a way to tie all of those interests and skills together.
My solution: going to graduate school for Systems Engineering at the University of Virginia.
Engineering might seem like a strange solution to get back to psychology, but I was able to focus on Human Factors, and that made all the difference. I could take courses on Cognitive Psychology while learning how to combine that with mathematical models. I found that exciting (yes, I'm a geek). And it's easier to find funding for an Engineering degree than a lot of other fields. However, most of that funding for me came from … doing web design for University pages. Well, at least I was tying it all together.
The best thing I did with my time at UVA was create my own thesis project. There was funding for various research opportunities, but none of them called to me. So I followed my passion and created my own User Centered Design project. I was volunteering for an organization called Recording For the Blind & Dyslexic (now renamed Learning Ally). They had volunteers record books for blind and dyslexic students. However, the correction system for the recordings of the audio books was quite cumbersome. So I studied the process, created models for it, designed a prototype, performed usability tests with the prototype, and then created new models to show how that would improve their overall process.
I consider that my first big step towards Blink. After graduating, I became an Information Architect at Classmates.com. Some people might groan at that company, but I will forever be grateful to them for: 1) moving me to Seattle and 2) introducing me to Blink. Classmates hired Blink for a project, and I was greatly impressed with their work. So when cutbacks occurred and I was laid off from Classmates, Blink was my first phone call.
I feel like its been a long and winding road, but that road led me directly to Blink.
We are all encouraged to focus on an area of Thought Leadership here at Blink. Will you talk about your area?
My thought leadership is that of User Experience for Kids. I have always been fascinated by the rules and structure society establishes, and those that fall outside of those established premises. So when I had a child of my own, I realized how different the human experience is for all of these stages of development; stages most people still tend to ignore.
But of course, there are also people who don't ignore this problem. Not long ago, I read Design For Kids by Debra Levin Gelman.
While there are other books out there, and my blog post criticized this book a little, I am a big fan of it and reference it when thinking about UX for the different stages of life. So pick it up if you have the chance!
Who or what motivates you right now? What's causing the greatest impact on the way you work/live/think?
Well, it's cliché, but fits in with the rest of my themes here: my kids are my greatest motivation. But really, it's all about fear. Fear of having my head jumped on by my kids first thing in the morning gets me up and out the door for a morning workout. Fear of having interrupted sleep gets me to make sure I leave work on time and tire the kids out before tucking them in. Not to be too Machiavellian, but fear is an excellent motivator.
As for the way I live and think, my wife certainly has the greatest impact. I always felt strongly that you should only marry someone that you can grow with, and I was fortunate enough to do just that. Over the years, we have challenged each other and debated about how best to handle life's obstacles, but at the end of the day no one's a better sounding board. And maybe more importantly, she gets me to laugh at it all.
Lastly, the way I work largely comes from the workplace environment. This has a huge impact on how anyone works. I've worked at places where there was a sense of dread constantly hanging over everyone, and I've worked at places that are a constant party. And as fun as the constant party atmosphere was, I like a place where you can rely on and be inspired by your coworkers. And that's why I love working at Blink. My coworkers are all extremely bright, creative, and caring people. We all care passionately about creating good experiences for users. The impact of having that kind of passion all around me just makes me happy to go to work.
When you're not at Blink, where would we find you? And what would you be doing?
At home or out and about, playing with the kids and my pup. If my family's asleep, probably curled up with my iPad reading comic books.
Lastly, if you set out on a long voyage at sea and could only bring one book to read, what book would you select? Why?
It's cheating a little bit, because it's three books in one, but The Lord of the Rings trilogy. I'd throw the Hobbit in to the mix, but I've never seen that bound with the other three.
Why? Well, I won't gush about the writing style and creativity that J.R.R. Tolkien had here. But I do love the books, and if I was stuck in a place like a boat where all I could do was read, I'd like a really good piece of escapism. Tolkien fits the bill perfectly.