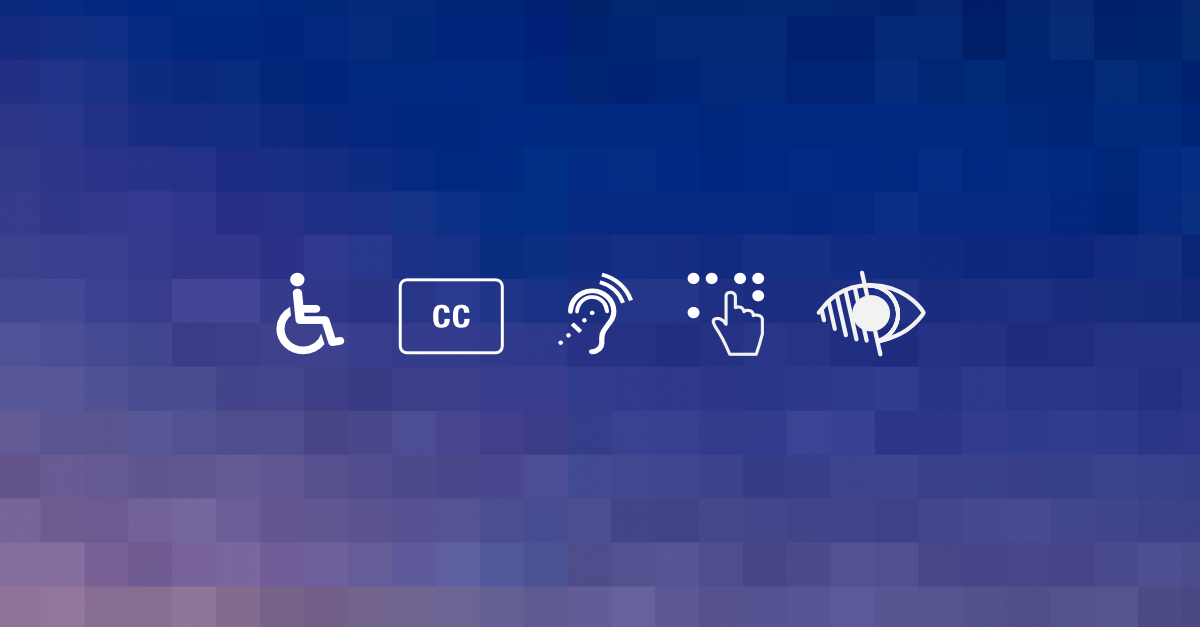 All articles
Global Accessibility Awareness Day
May 20
This year for Global Accessibility Awareness Day, Blink hosted a virtual event to share how accessibility fits into every step of our design process. Here's a recap of the event including our key takeaways and session recordings.
Zoom
Thursday, May 20, 2021
Thanks to everyone who joined us for our virtual event to celebrate Global Accessibility Awareness Day on May 20, 2021! For this year's event, we hosted a live panel discussion with Blink thought leaders to share how accessibility fits into every part of our strategy, research, and design process. Here are our key takeaways from the event:


9:00AM Welcome with Joe Welinske
9:10AM Organizational Commitment with Kelly Franznick
Key takeaways:
Accessibility should be added to every part of the design process — from strategy and research, to design and development.
Throughout the design process, treat every digital product like a physical product by assuming the final product cannot be altered once it's deployed. This reminds teams to apply accessibility best practices early and often throughout the design process.
Accessibility is an ongoing practice and UX experts have an incredible opportunity to continue the conversation around inclusive design.
Quote to remember:

"At Blink, our commitment is to apply accessibility best practices to every part of our strategy, research, and development process. Not only for the projects we design in-house, but also when consulting with our clients." —Kelly Franznick, chief innovation officer.
Watch the full session, here, for an event overview and to learn more about our organizational commitment to accessibility.
9:45 User Research with John Dirks, Brittany Johnson, and Ally Lucas
Key takeaways:
Whether you're conducting research to design a new product, or to test an existing prototype, it's important to talk to the people who will actually be using the product. This means your research sessions should include participants with a variety of abilities.
Empower your research team to learn as much as they can about assistive technologies. This isn't a replacement for having an assistive device specialist on the project team, but it can be a valuable piece of the research process.
Ensure your research sessions are accessible for all participants. Do this by conducting a pilot session to test all of your research tools and processes for accessibility.

Quote to remember:
"User research is meant to help make really great products and if those products aren't made with everyone in mind, then they're not going to be great products." —Brittany Johnson, research director.
Watch the user research session, here, to discover how accessibility can fit into your user research practice.
10:30AM Project Management and Client Relations with Alexi Glines, Shannon Chin, Donna Glosser, and Kevin Burzynski
Key takeaways:
Set clear expectations when recruiting participants for a research session. This goes for all participants, but especially those who have a cognitive or physical impairment. When communicating with participants prior to a research session, explain what they can expect from the session including details about the session length and exactly how the study will be conducted. This will help participants feel more comfortable with the process.
Plan ahead and add accessibility checkpoints to your project timeline. Our teams set predefined meeting times throughout our project timelines to talk about accessibility and ensure the design remains inclusive at every step of the project process.
Consider accessibility at the earliest stages of the project. Adding extra time to the calendar for recruitment and research, as well as budgeting, up front, for appropriate research incentives will save teams time and money in the long run.
Quote to remember:
"The way I think about my role as a project manager is that I'm kind of a champion [for accessibility]. I'm not actually doing the work, but I'm enabling the team to do the work successfully. So my role is to remind the team about our goals and to keep us on track throughout the project" —Alexi Glines, project manager.
Watch the project management and client relations session, here, to learn how accessibility fits into these roles.
11:15AM Interactive and Visual Design with Geoff Harrison, Tristan Plank, Megan Greco, and Zack Klein
Key takeaways:
Share and test project prototypes with people of varying abilities to help identify risk areas before the final product is released.

Businesses must be intentional about building an inclusive design culture.

There are easy ways to start designing more inclusive products and services. Consider elements such as color contrast, text size, and button labels as a starting point.
As a UX designer, set the development team up for success by creating tools, systems, and templates to guide a development process that prioritizes accessibility.
Quote to remember:
"Companies are aspiring to address accessibility issues or make more inclusive products, but then won't really allow the investment that it takes to do so. As an industry, we've got a lot of room to move here and that's true of Blink, too. So while we do [incorporate accessibility best practices into our designs], there's so much more that we can do and should do in this area." —Geoff Harrison, chief design officer.
Watch the interactive and visual design session, here, to learn how accessibility fits into our design process.
12:00PM Assistive Device Specialists with Blake Geyen and Ricardo Rodriquez
Key takeaways:
Make accessibility a priority in every aspect of the product or service design. Better website design starts with easy navigation.
Every detail counts when building accessible products and services, even if it's for something that seems very minor.
Quote to remember:
"One challenge I've had [as an assistive device specialist] is helping designers and developers understand how important accessible design and development are, even if it's something that seems minor, such as adding alt tags to images so that a screen reader knows how to read it. [My goal] is to help them understand why this is important." —Ricardo Rodriquez, assistive device specialist.

Watch the full session, here, to learn more about our Assistive Device Specialists and their role in our design process.
12:25PM Development and SEO with Eric Gomez, and Rodrigo Stockebrand
Key takeaways:
Inclusive design benefits all people, not just those with physical challenges.
There is a strong link between optimizing for search engines and building accessible experiences.
Accessibility best practices should be automatically included in every design process across the industry.
Quote to remember:
"Thinking about accessibility early on builds overall better web components because you're making code decisions with much more intention and thoughtfulness. This benefits not only the person that you're coding accessibility for, but it also just makes the code better overall for all users." —Eric Gomez, principal design technologist.

Watch the full session, here, to discover how accessibility can strengthen the product development and SEO processes.
12:45PM Closing with Joe Welinske
When
May 20, 2021
Where
Zoom
Price
Free